Benefits of Partnering with an Aircraft Management Company
10.6.15
Owning and managing an aircraft can be a lot of work, partnering with an private aircraft management company can help relieve some of the day to day work that comes with supporting an aircraft. Priester Aviation is celebrating 70 years of excellence in private aviation and with that comes a backed guarantee of professionalism and attention to detail. By partnering with a global private aviation company, like Priester, you receive many benefits including substantial discounts on aircraft fuel, maintenance and parts to name a few.
Benefits of Partnering with an Aircraft Management Company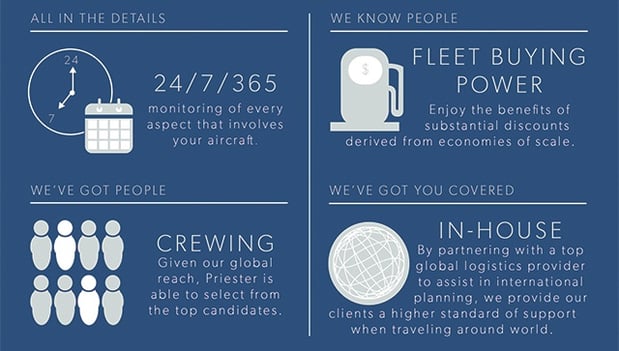 Full Management Service
Priester Aviation's Full Management Service is designed to completely relieve the burden of managing your aircraft. Priester provides round-the-clock monitoring of every aspect of your aircraft, including administration, trip coordination, crew scheduling, flight operations, regulatory oversight, risk management, and maintenance coordination. For those who wish to offset the cost of owning their aircraft via marketing it to charter clients, this management option can also include the required FAA Part 135 charter certification and oversight.
Charter Management
For aircraft owners who already have flight departments or administrative staff that manage their aircraft, Priester's Charter Management services offer excellent options. This includes some of the options included with Full management, including adding your aircraft to our FAA Part 135 worldwide charter certification so we can help you generate revenue when you are flying.
Meet the Team
Priester Aviation has a team of private aviation specialists that have a wealth of knowledge in private aircraft management. Charlie Hughes, Vice President of Management Sales for Priester Aviation has over 20 years of experience in global private aviation and specializes in aircraft management sales and directs the strategic growth of the Priester Aviation fleet. To speak with Charlie regarding your aircraft and the potential to partner contact him direct at + 1 513 575 7266.