Priester Aviation 2021 Summit Delivers Big
10.7.21
Priester Aviation walks its talk about being committed to building strong relationships and ongoing quality improvement. It hosted two summits last month – Sept. 8-9 and Sept. 21-22 – designed to keep its team sharp and further personal connections between team members.
The events drew approximately 100 Priester team members from around the country, consisting of managed flight department leaders, owner services executives, flight crews, crew chiefs, flight services and maintenance technicians. Sponsors included World Fuel Services, JSSI and FlightSafety International. The event featured special guests such as the National Air Transportation Association (NATA) and Fireside Partners. Chairman and CEO Andy Priester kicked off the sessions with a welcome and company overview.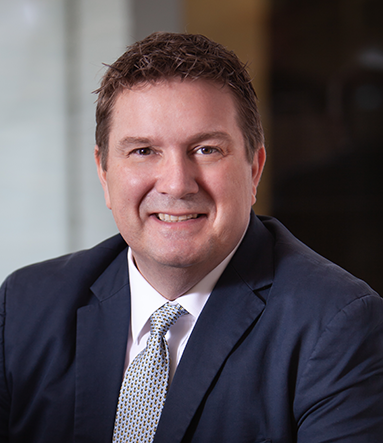 "For more than 75 years, our company has been built on relationships, innovation, and industry leading safety systems. The summit was incredible because it allowed us to connect with our team members in ways we never have in the past and stay true to our company's guiding principles." says Andy Priester.
Leveraging an Iconic Heritage
Vintage photos of George Priester's original flight training school, launched in 1945, reminded attendees of the company's proud heritage and its impressive evolution into a multidisciplinary global aircraft management and charter company. Leadership passed to a third generation this summer with Charlie Priester's transitioning to Chairman Emeritus and son Andy's adding the role of Chairman to his CEO duties. That brought a revisiting and refinement to the company's vision, mission and values as well as strategies for futureproofing Priester's services.
Speakers and panelists covered a myriad of topics from digital flight operations and managing change in a rapidly evolving environment to sustainable aviation fuel and COVID-related challenges to aircraft operations. Robust Q&As increased interactivity and steered conversations to areas attendees found most meaningful.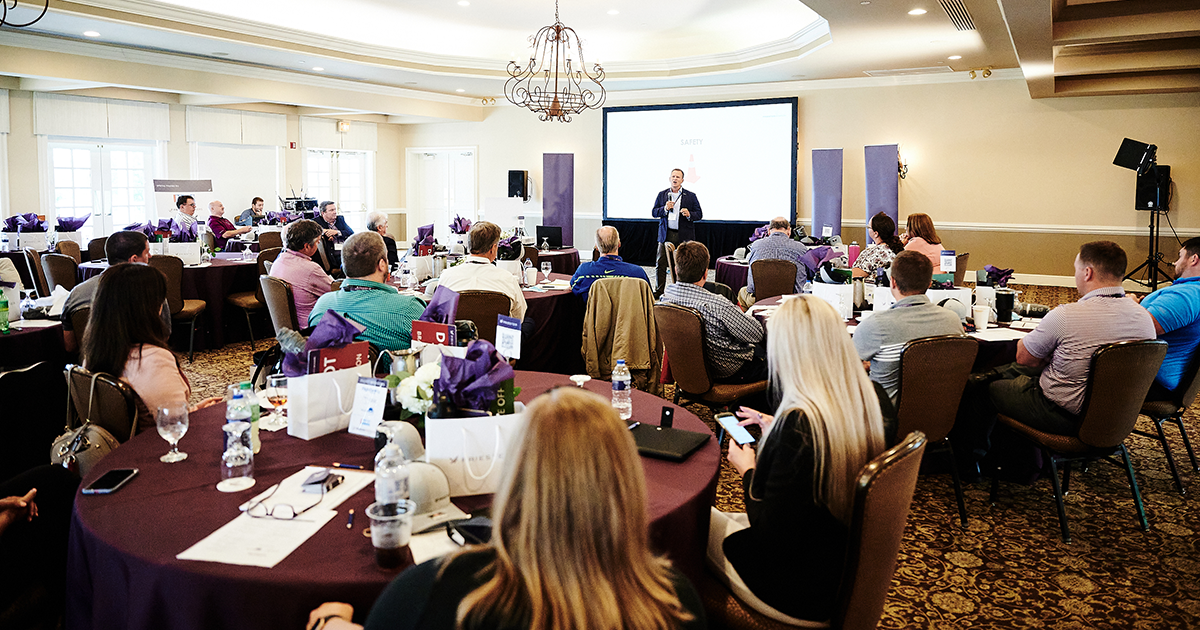 Members from the owner services and sales teams discussed owner benefits and how best to leverage them. Those include Priester's owner portal, supplemental charter, on-demand charter, aircraft acquisition and emergency response plan (ERP) integration. Another panel featuring the leadership of flight operations maintenance led the group through the department's digitization plans. These efforts encompass everything from digital manuals and online surveys (such as for pilot fatigue) to electronic operations and mobile access. A new, customized, web and mobile aviation management platform integrates workflows from sales, crew and dispatch to reporting and maintenance management. Priester team members have real-time data available at their fingertips, keeping teams aligned, accuracy paramount and everyone in the know at all times.

Outside Expertise Brought In
FlightSafety's Richard Meikle discussed the difference between being proficient versus prepared and how training has evolved to be more targeted and real world. He provided case studies that brought his points home in powerful, memorable ways.
World Fuel's Mark Peters and Mike Kimmons shared the benefits of being the world's largest fuel network with in-country experts across the globe. When you've sold 8.4 billion gallons of fuel and have a 5,000-plus team of global professionals, you've learned a lesson or two.
NATA CEO Timothy Obitts educated the team on sustainable aviation fuel (SAF) and how it applies to Priester's operations. The topics included costs, environmental and public health benefits, and the commercial availability scale that is currently possible with appropriate policies. In SAF's absence, he offered strategies such as book and claim and carbon offsets.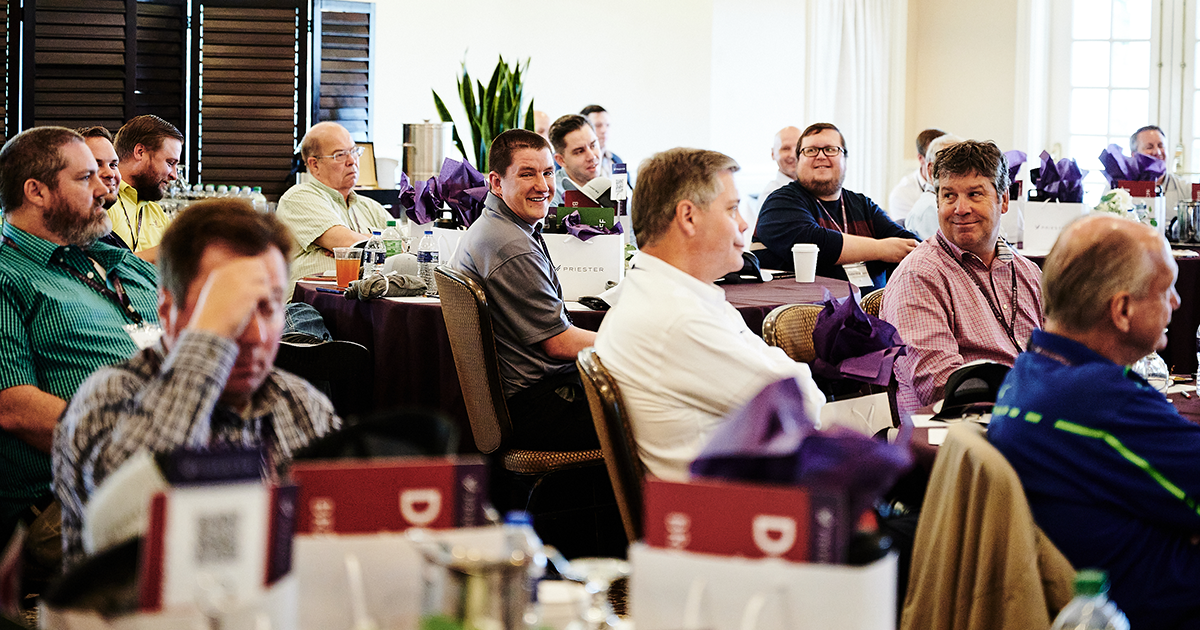 JSSI's Ben Hockenberg and Martin Mathot made a presentation on overcoming such industry challenges as COVID-19's effect on aircraft operations. They touched on the realities of a more remote workforce, supply chain delays, longer MRO turn times due to parts delays and labor complexities, and aging aircraft with reduced OEM parts support options. Equally important, they addressed how JSSI Parts and Leasing is combatting those issues though such initiatives as expanded warehouse space and team to support 24/7 shipments, and strategic inventory acquisitions that include complete aircraft purchases for teardowns that provide clients with parts options at a lower price yet high quality. Priester's recent integration of JSSI's parts program and platform provides access to more than 25,000 stock lines and a global network of maintenance, repair and overhaul (MRO) providers.
Fireside Partner President and CEO Don Chupp spoke to the importance of getting better at getting better. He presented a psychological approach to the decision-making process as it relates to safety. Chupp challenged attendees to redefine what safety really means and to look past the basic expectations.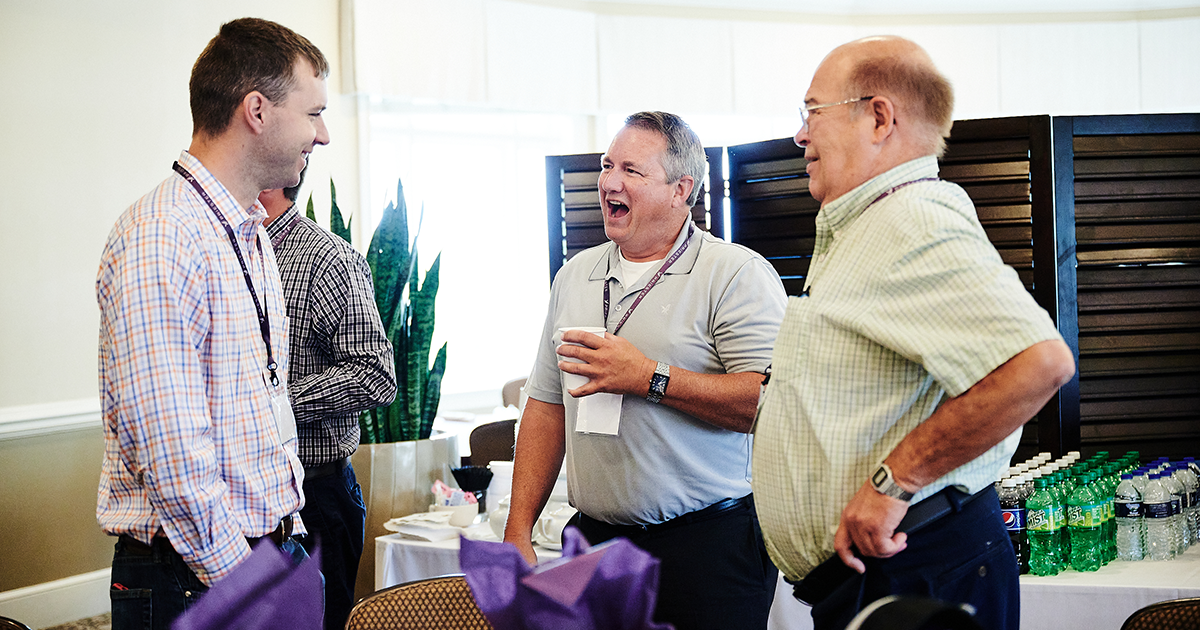 Priester integrated social events to promote interpersonal relationships between team members who are normally thousands of miles away. The summit provided an unrivaled opportunity for not just learning, but for face-to-face connection and team building.
"Our summit exceeded expectations," says Andy Priester. "We left the sessions energized and armed with a heightened understanding of how we can better serve clients today and tomorrow. Our clients deserve the best, and that's what we plan to provide them."
About Priester Aviation, LLC
Priester Aviation is among the world's most experienced global private aviation companies, specializing in aircraft management and private travel solutions. With more than 75 years of experience, Priester Aviation is among the elite private aircraft operators that hold the highest safety accreditations including the ARGUS Platinum rating, Wyvern approval, IS-BAO Stage III and Air Charter Safety Foundation certifications.
For more information, please contact Priester Marketing at +1 847 537 1133, or visit www.priesterav.com.